The rich and diverse culture of a country can be found in many places, including the products and items sold in that country. Once taking a trip from Myanmar river cruises, you would definitely love to find some lovely gifts to take home for family and friends. This article gives you the top 10+ best Myanmar souvenirs to buy and an ultimate guide on the best places to have them at the most reasonable price.
Top 10 Best Souvenirs to Buy When Traveling to Myanmar
1. Sand Paintings
Burmese sand painting is one of the most unique art forms you'll ever see. Originated in Bagan from a very long time ago, nowadays, sand painting is one of the most unique souvenirs to buy Myanmar. To Burmese culture lovers, the sand paintings with untold stories of lifestyles, people, and Buddhism in the land of golden pagodas would be truly a man-made masterpiece.
Looking at these sand paintings with veneration, you might even learn the astrology of the Burmese in which your figurine animal is in correspondence with the day of the week you were born. For example, those people born on Tuesday have a natural ability for leading and are self-respect, strong-willed and opinionated which is related to Lion, their animal sign. In your Myanmar trip, you will be able to find the sand paintings sold around the temples of Bagan at a reasonable price.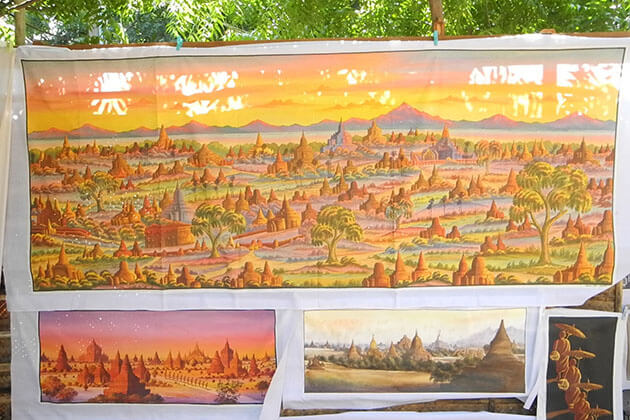 2. Lacquerware
Notwithstanding the origin of lacquerware was considered from China or Thailand, when it comes to Myanmar, the people have made their lacquerware more special and stand out to other countries. Undoubtedly, lacquerware is one of the best Myanmar souvenirs that you should not miss when traveling to Myanmar.
What makes Myanmar lacquerware apart from others is the unique designs which are relief molded (Thayoe Pan Yun), incised (Ka Nyit Yun), and real gold leaf used (Shwe Zawa Yun). Bagan is the most famous place in Myanmar which produces this unique item. Not just gazing at the making process, you can purchase lacquerware items such as bowls, boxes, cups, and many others to bring home.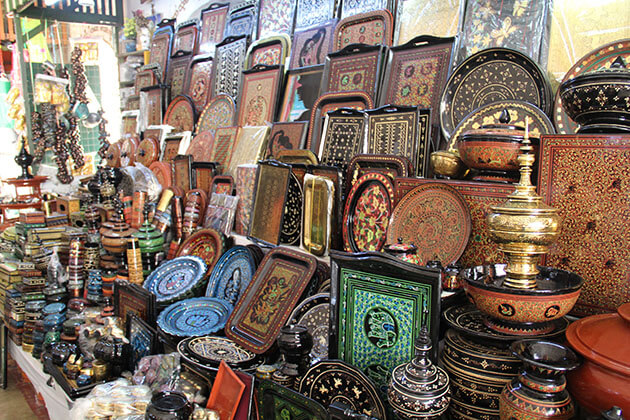 3. Marionettes
Puppetry is one of the most unique arts in Myanmar which is said to date back to the 15th century. You will see it performed in popular tourist attractions such as Yangon, Bagan, or Mandalay. If you are interested in this cultural element might not want to miss a chance to purchase a puppet for a unique gift to your friends.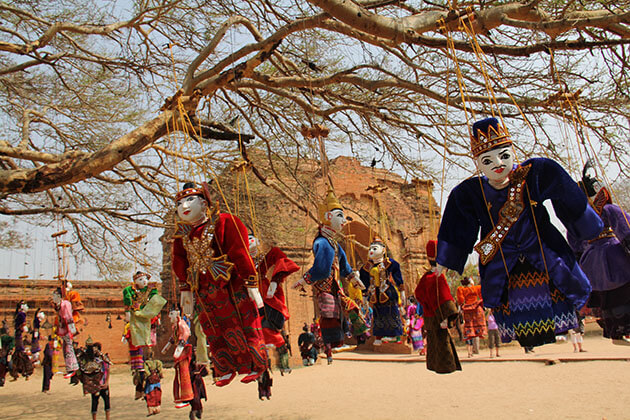 4. Silverware
Ranked 2nd after the lacquerware in the list of best-selling craft items in Myanmar, silverware is the next souvenir to buy when traveling in Myanmar. There are different versions of silverware including rings, necklaces, bracelets, and even pots. Moreover, you can also find elegant napkin rings and sophisticated pots would definitely complement flair to your dinner table. An important note is that you should ask for an official certificate of jewel from silversmiths to avoid any possible imitation, especially from street vendors while purchasing the silverware in Myanmar.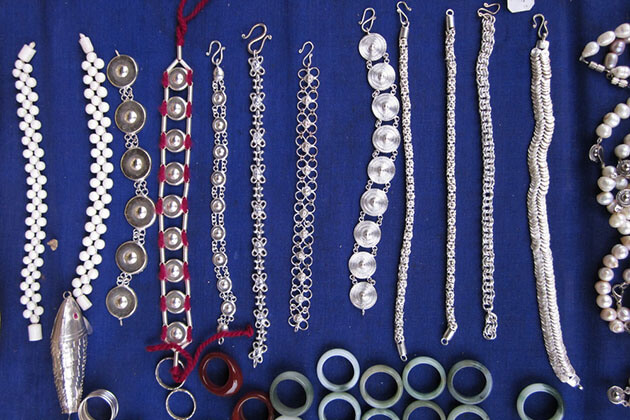 5. Longyi
No Myanmar tour completed without experiencing to wear Myanmar traditional dress: longyi. This makes longyi one of the best things to buy in Myanmar for every traveler. Just a wrap of the traditional dress of Myanmar – longyi around the bottom, then you will become a native Burmese. The traditional attire is worn both by Burmese men and women. There are many attractive designs for you to choose from. Bogyoke Aungsan Market is best known for purchasing longyi in Myanmar.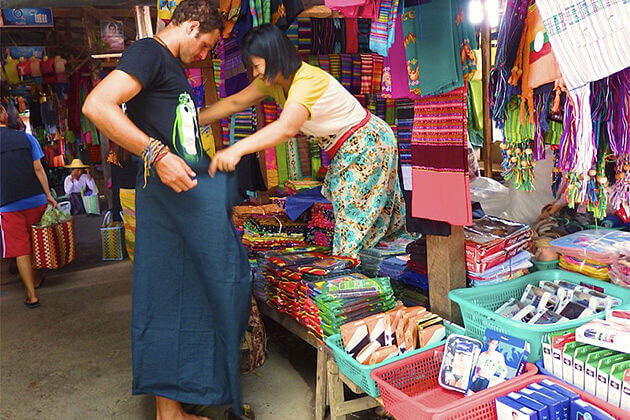 6. Inle Lake Lotus Silk
Not just well-known with the breathtaking natural beauty, Inle Lake is also home to the most precious and finest fabric in the world, called the lotus silk. The fabric is dyed by natural methods and ornamented with various kinds of beads and sells, not distinctive silk made from lotus root under the finest touch of gifted tailors and seamstresses which make an iconic gift from Myanmar for your acquaintance.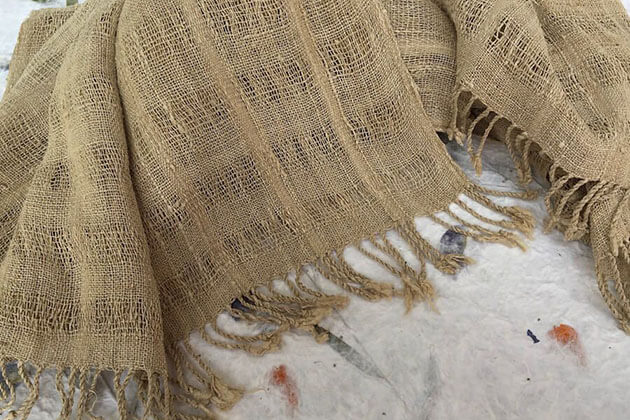 7. Pathein Umbrella
The parasol of Pathein has been well-known worldwide. Not just helping you against the intensely hot and intensely rain of Myanmar, the catching design of Pathein umbrella makes it become a lovely Myanmar souvenir to buy on your trip.
Together with Pathein, Inle Lake and Pindaya are popular places where tourists can visit the local paper factory to learn the umbrella hand making the process and get one as the commemoration of the vacation to Myanmar.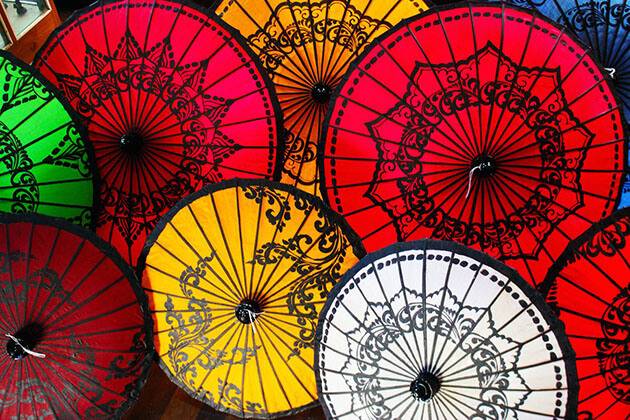 8. Thanakha Powder
Thanaka powder is a traditional powder derived from the tree marks growing in the Central regions of Myanmar. For a long time, it has been used by Burmese men and women for their daily beauty regime since time immemorial. In addition to the natural powder, there also has the read-made Thanaka cream which can be used as a great sun cream to protect your skin from sunburns, acne, and infections making it a good souvenir in Myanmar.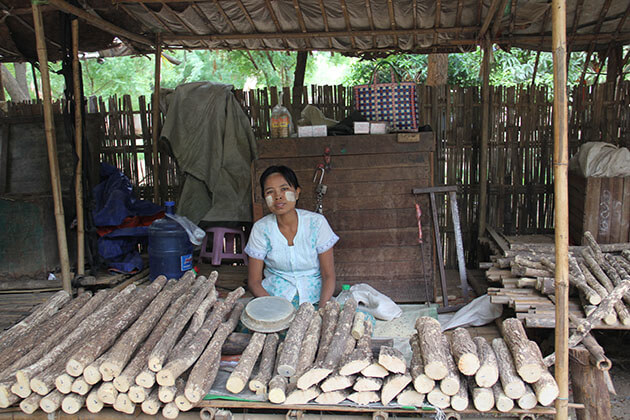 9. Cigars
Cigars are unique souvenirs in Myanmar that you can take home. They are well made from natural materials which create a warm and pleasant aroma. Moreover, cozy fragrance and natural components make cigars in Myanmar a renowned and unique present. Bagan is the destination where you can get first-hand experience of the process of making cigars of the women in Myanmar and purchase directly from the locals.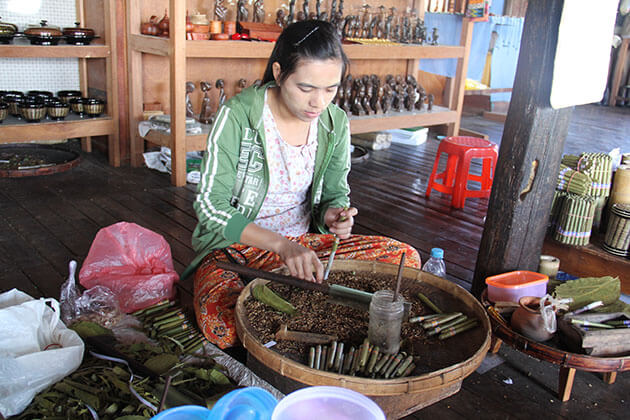 10. Gold Leaves
Observing the gold leaf making is one of the highlights for any people taking their trip to Myanmar. Golden leaves after finished can be used to rub on the Buddha statues as offerings or can mix with other ingredients to make traditional medicines or combined with Thanakha, a wood paste for makeup, to apply on women's faces. For tourists, that would be a great souvenir from Myanmar. King Galon, a famous workshop in Mandalay is where tourists can see and learn how the artisans create the gold leaf through many processes.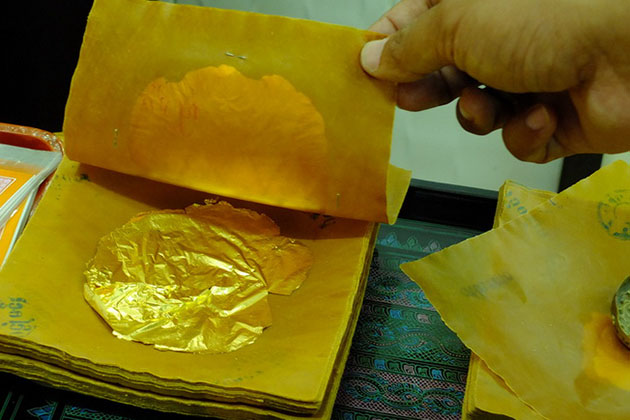 Recommended Things to Buy in Myanmar
Jewelry
Gemstones are one of the most famous items in Myanmar. Well known with rubies, jade, and sapphire stones, gem products which are produced in this country are highly appreciated by the market. Just a small note that you should ask the seller for the certification of the item you buy to avoid buying the low-quality gem.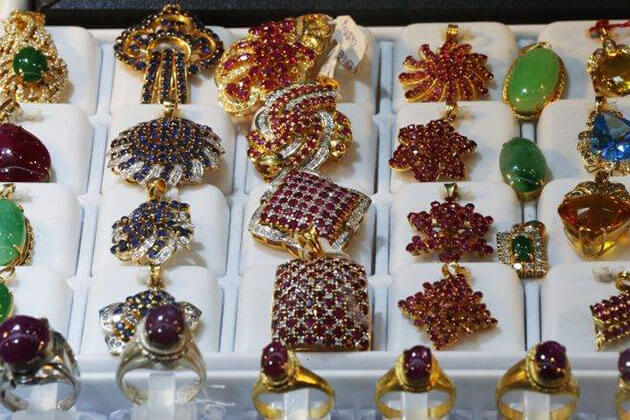 Buddha Statues
As the country with over 90% of people practices Buddhism, you will find Buddha statue sold in many shops throughout Myanmar.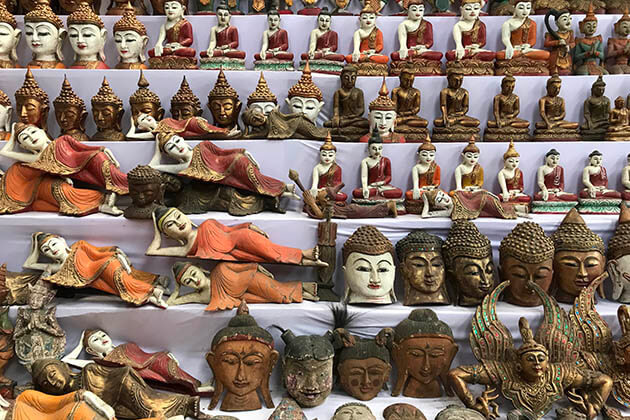 Bells & Gongs
Bells and gongs carry the rich sonority of Burmese culture. They are visible when attracting attention for religious ceremonies and surprisingly, getting family members involved in meals. Lovely bells at different sizes are utilized for decoration purposes of historical or archeological areas. Bells and gongs are sold around the temples and pagoda throughout the country.