The Coronavirus or Covid-19 is one of the World's most serious pandemics throughout recorded history. 215 countries all over the world have suffered from this epidemic with over 16,400,000 cases and nearly 6,530,000 deaths. Myanmar is one of the Chinese neighboring countries where its people, economy, and lifestyle are extremely damaged.
Updated on 27/07/2020
Coronavirus (Covid-19) News & Update in Myanmar
| | |
| --- | --- |
| Total Cases | 350 |
| Deaths | 6 |
| Recovered Cases | 290 |
Entry Conditions in Myanmar
On the 28th of June, 2020, the Myanmar Ministry of Foreign Affairs announced the temporary suspension of Visa on Arrival and E-visa for all countries will be extended to the 31st of July 2020. International flight restrictions to and from Yangon International Airport have been further extended to the 31st of July, 2020.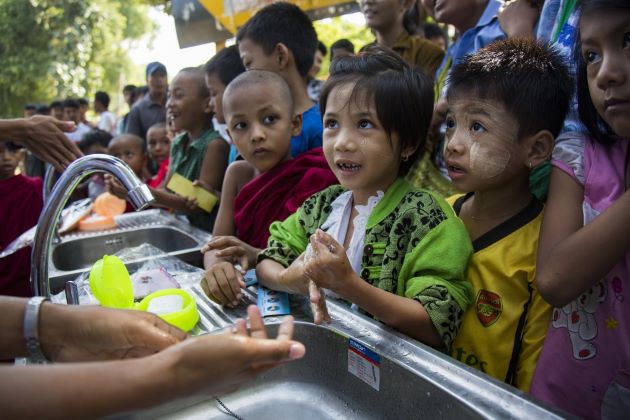 On the 28th of May, 2020, the Central Committee on Prevention, Control & Treatment on Covid-19 of Myanmar announced the regulations for foreign nationals traveling to Myanmar to follow if they are granted an entry visa (once applications are available as follows:
Foreigners will have to fulfill a 21-day quarantine in their respective country before flying, another one-week facility quarantine after arriving in Myanmar, and finally one more week of home quarantine in Myanmar, before being cleared to work in the country.
Foreigners will also need to provide evidence they are free from Covid-19 infection (medical certification provided by a doctor or hospital).
Foreigners have completed the one week home quarantine before flying is also required, however it is unclear what type of proof would be requested.
Land Border Closure (until further declaration)
Tamu-Moreh border gates (Myanmar – India)
Tachileik – Myawaddy – Kawthaung – Htee Khee border gates (Myanmar – Thailand)
Myanmar – Bangladesh border gates
Myanmar – China border gates
Myanmar – Laos border gates
Health Check in Myanmar
Health screening and temperature checks are performed at all airports and public areas. A national curfew has been imposed for residents of these regions below from 10 pm to 4 am. Exceptions are made for medical and essential matters. The government has cut the night-time curfew by two hours for all states and regions including Yangon, Mandalay and Nay Pyi Taw from 12 am to 4 am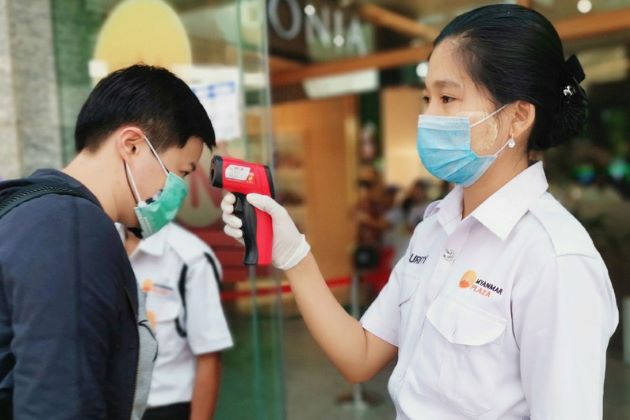 Domestic travelers are required to carry a recommendation letter of their residency from respective ward administrations when going around Myanmar, except to Yangon Region. Regional and state governments have stated that a recommendation will be required for locals while foreigners and returnees will need a letter from their companies and quarantine centers, respectively. The gatherings of more than 5 persons are not permitted. Face masks must be worn in public areas.
Tourist Attractions in Myanmar Updated
City
Hotel
Dates
Nyaung Shwe
Thousand Island Hotel
Closed until further notice
Amazing Nyaung Shwe
Closed until the end of September
Inle Lake
Paramount Inlay Resort
Closed until the end of September
Amazing Inlay Resort
Closed until the end of September
Inle Heritage
Closed until the end of September
Sofital Inle Lake
Closed until further notice
Novotel Inle Lake
Closed until further notice
Sanctum Inle
Closed until further notice
Villa Inle
Closed until the end of September
Pristine Lotus
Closed until the end of October 2020
Golden Island Cottage
Closed until the end of October 2020
Nyaung Shwe
Cherry Queen
Closed until further notice
Nyaung Shwe City Hotel
Closed until further notice
Mount Inle
Closed until the end of September
Mergui
Wa Ale Resort
Closed until the end of September
Awei Pila
Closed until the end of September
Ngapali
Ngapali Bay Villa & Resort
Closed until the end of September
Thande Beach
Closed until the end of September
Sandoway Resort
Closed until further notice
Jade Marina Resort
Closed until further notice
Amata Ngapali
Closed until further notice
Pristine Mermaid
Closed until further notice
Yangon
Yangon Excelsior Hotel
Closed until further notice
Rosewood Yangon
Restaurant re-open 01 September 2020
Hotel re-open 01 October 2020
Savoy Hotel
Re-open 24 June 2020
Jasmine Palace Hotel
Closed until further notice
Hotel G
Re-open on 02 July 2020
Belmond Governor's Residence
Re-open 01 July 2020
Bagan
Razagyo Hotel
Closed until further notice
Bagan Lodge
Closed until the end of September 2020
The Hotel Umbra Bagan
Closed until further notice
Areindmar Hotel
Re-open on 22 June
Arthawka Hotel
Re-open 01 July 2020
Bagan Hotel River
Closed until further notice
Bagan Landmark
Closed until further notice
Shwe Yee Pwint
Closed until August 2020
Sky Palace
Re-open on 21st June 2020
Thazin Garden
Re-open
The Regency Hotel
Re-open on 15th June 2020
Villa Bagan
Closed until September 2020
Zfreeti Hotel
Closed until further notice
Aureum Bagan
Re-open on 15th June 2020
Su Tine San
Closed until further notice
Rv Panorama Cruise
Stop operating until 30 September 2020
My Bagan Residence
Re-open on 02 July 2020
Bagan Thiripyitsayar
Re-open on 01 July 2020
Golden Rock
Mountain Top Hotel
Closed until further notice
Golden Rock hotel
Closed until further notice
Mandalay
Bagan King Hotel
Closed until further notice
Thiri Thitsar Hotel
Closed until further notice
Mercure Mandalay Hill
Closed until 30 September 2020
Hotel By The Red Canal
Re-open 01 July 2020
Hotel Heaven
Closed until July 2020
The Home Hotel
Closed until July 2020
Hotel Yadanarpon
Closed until July 2020
Hotel Hazel
Closed until July 2020
Eastern Palac Hotel
Closed until July 2020
Rizt Grand Hotel
Closed until July 2020
Monywa
Win Unity
Closed until further notice
Pyin Oo Lwin
Win Unity
Closed until further notice
Kan Pa let
Win Unity
Closed until further notice
Loikaw
Keinnara Loikaw Hotel
Re-open 01 July 2020
Hpa An
Keinnara Hpa-An
Re-open 01 July 2020
Mawlamyaing
Hotel Suggati
Re-open 01 July 2020
Kalaw
Amara Mountain Hotel
Re-open 01 July 2020
Special Notes
Bring hand sanitizing gel
Carefully wash hands during the day with soap and water, for at least 20 seconds. Use sanitizing gel if soap and water are not available
Try to avoid touching eyes, nose, and mouth with unwashed hands
Refrain from drinking water from unknown sources